This is an incredible video of a truck that can transform into a full-size house or building structure. As you can see in the video, this is a house that fits entirely inside of a semi-trailer truck. It's portable and transforms into a large house.The video was created by Dahir Insaat, and is unfortunately only a concept.While this particular demonstration seems a bit far-fetched considering the house would have to be completely devoid of furnishings to fold correctly, the idea itself is very interesting.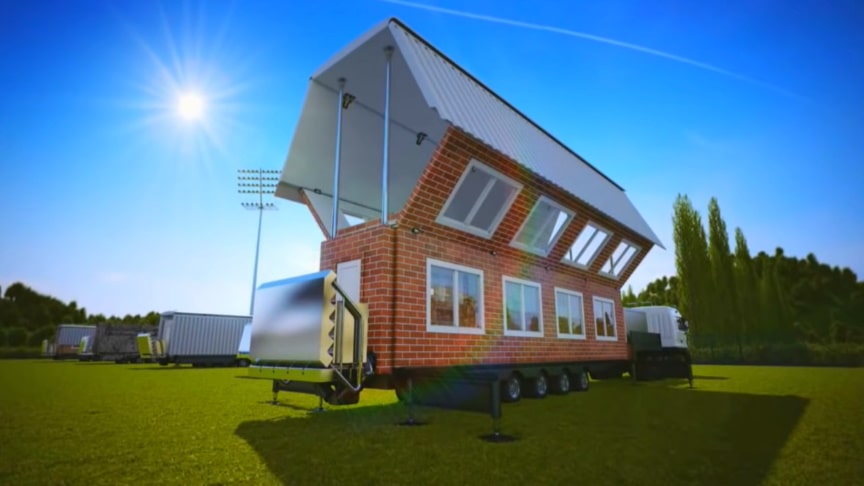 image: Dahir Insaat
There are increasing amounts of people who want to own a home without the burden of possessing a large house on permanent real estate. This has led to the explosive tiny house movement where people not only seek to reside in smaller homes, but many also choose for their homes to be mobile.
image: Dahir Insaat
The method for transforming a mobile home includes transporting the house to the place of operation by means of an auto platform and fixing it in a selected place by means of retractable supports, vertical movement of the composite roof, unfolding the roof by turning the folding panels relative to the non-rotating panel, folding out the rotary panels of the side, end walls, folding out the rotary floor panels.
Advertisement
The transformation of the house into a transport position is carried out in the reverse order after the end of operation. All rotary panels are laid out and folded by means of individual drives of the automatic control system.
Mobile house-transformer contains an autoplatform with retractable supports and a non-folding floor panel rigidly mounted on it and non-folding rear and front end panels adjacent to the non-folding floor panel, a movably mounted roof with the possibility of vertical movement of the fixed roof panel and folding side panels hinged to it, folding panels of side and end walls.