Jay built it in his spare time (between working, spending time with his kids, and sailing) over the course of 4 years as an alternative housing option to the country home he had before, which he felt was too expensive, too far from town, and too much maintenance.
image: Exploring Alternatives
This stunning 700-square-foot, self-built float home is fully off-grid with solar power, a pellet stove, a composting toilet, and an evaporation grey water system that ensures nothing is dumped overboard!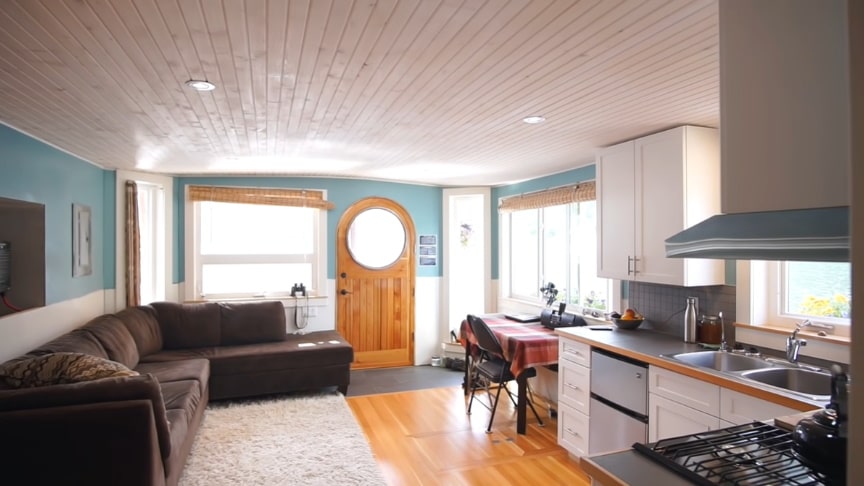 image: Exploring Alternatives
It has an open concept kitchen, living and dining space, a master bedroom and bathroom on the main floor, two bedrooms on the second floor, and the wraparound deck up top gives 360 degree views. Take a full tour of this sustainable tiny floating house!
Advertisement
Now he doesn't have a lawn to mow or a driveway to shovel, and he is walking distance to all the amenities in town and just a few steps from his sailboat that is docked in the same marina.It's not an easy lifestyle though, everything that goes in and out of the float home has to be carried there, including propane tanks, pellets for the woodstove, groceries, garbage, etc.
Even in the middle of winter when docks are icy and the wind is blowing. And it's quite public with boaters and paddlers going by all day. But Jay says it's all about mindset and he's okay with these smaller challenges since it allows him a lifestyle that suits him perfectly.