The Airbus BelugaXL (A330-743L) is a large transport aircraft based on the Airbus A330-200F built by Airbus to replace the original Airbus Beluga to move oversized aircraft components, such as wings.The Beluga XL is 63.1 m (207 ft 0 in) long, and has a wingspan of 60.3 m (197 ft 10 in), which is around the same of an Airbus A330-200 – what the Beluga XL is based on. The real advantage is the internal space – 2209 m3 (78010 ft3) of it.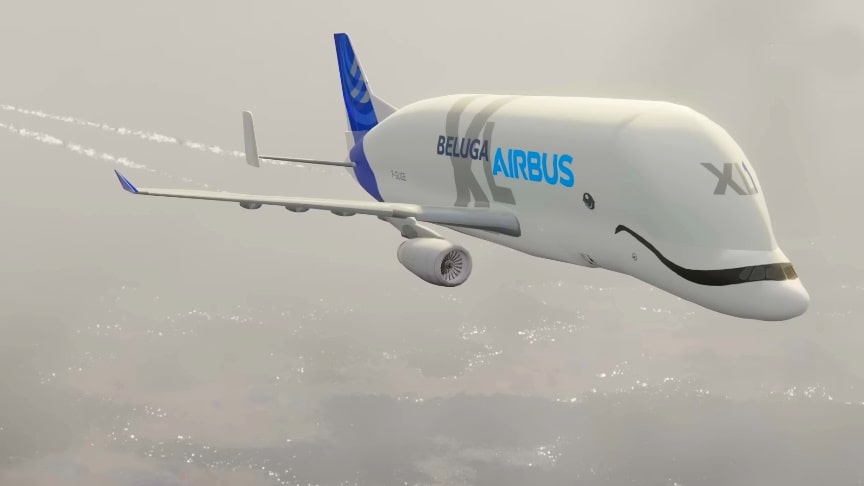 source/image(PrtSc): Found And Explained
The internal area of the plane is 46.56 meters long, 7.7 meters wide, not including the sublevel cargo deck for freight, and 7.9 meters high. The a380 has a fuselage dimension of 8.4m high, its cabin is 6.54m meters wide and 50.68 Metres long. So, lets install some seats – time to do some maths. Looking at the cross-section of the plane, its clear that we can fit in two decks – if not three.
source/image(PrtSc): Found And Explained
These two aisles would be 40 inches combined width, or 1 meter, leaving us 670 cm, or 264 inches to play with. If each seat it a nice 18 inches wide, or 46 cm, that means we can fill in 14 and a half seats across.This would have to be in a 4 – 3 – 3 – 4 configuration. We might have to take out a seat in the middle to make a third asile, so we will say 14 seats. If the seats have 31 inches of legroom, or 70cm, then we could fit in 55 or so rows, leaving room for door spaces.
Advertisement
This would mean on one deck, 14 in 55 rows would be 770 passengers in total if all economy in the tightest configuration. If we include the second level, its likely we could get this plane to 1200 passengers if all economy, or close to. This plane has a cruise speed of only 37 km/h (458 mph, 398 km) , Mach 0.69.
Meaning it takes a bit longer to get where you need to go. It also only flies at a lower 11,000 m (35,000 ft), which would make it susceptible to clouds and other weather events. It only has a range of 2,300 nautical miles, or 4,300 kilometers. London to New York is 5571.55 km or 3008.39 nautical miles – putting this plane out of practical use for arguably one of the most popular routes in the world.