Designed by Hidromek Design Studio.HMK Vision Compactor provides its operator with shape – shifting drum and rear tires providing adaptable traction to different ground conditions, a 360 degree rotational cabin, a seat acting independently from cabin, and " Ground Hardness Tester (GHT)", which analyzes ground conditions and sets the drum and tires!
Hidromek Vision Compactor is a concept that signals the way of vibrated compactors in ten years along with the technological advancements. Soil compactors are used with standard or special attachments according to varied ground conditions.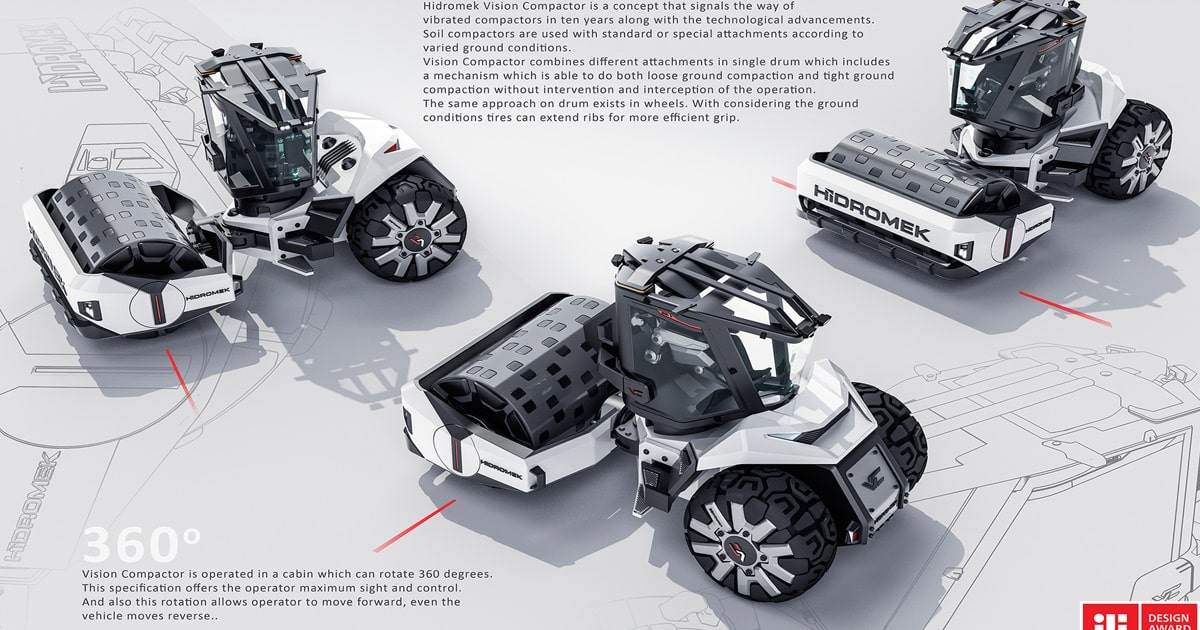 Vision Compactor combines different attachments in single drum which includes a mechanism which is able to do both loose ground compaction and tight ground compaction without intervention and interception of the operation. The same approach on drum exists in wheels. With considering the ground conditions tires can extend ribs for more efficient grip.
Advertisement
Compactor is operated in a cabin which can rotate 360 degrees. This specification offers the operator maximum sight and control. And also this rotation allows operator to move forward, even the vehicle moves reverse.
The vehicle is powered by four main hub motors. Lithium ion batteries store and provide electric power. Position of batteries and their weight fit in with weight and operation principles of the vehicle.Vision compactor is prepared to work by changing the battery in certain periods. Considered its dimensions and weight, a forklift is an appropriate instrument for exchange process. Beside the main function of power supply, its position and weight has a benefit on weight balance of the vehicle.