The ShuttleBike kit it's a dual-float system that attaches right to your existing bicycle so you can use your bike on a lake or a river. What's the best part? You can attach the air-pump to your bicycle to inflate the floats by just pedaling your bicycle!The ShuttleBike comes in a kit that comes in a handy little backpack with everything in it. To set it up, just unpack it from the bag, connect each float individually to the bike using the included connection adapter, and start pedaling to inflate.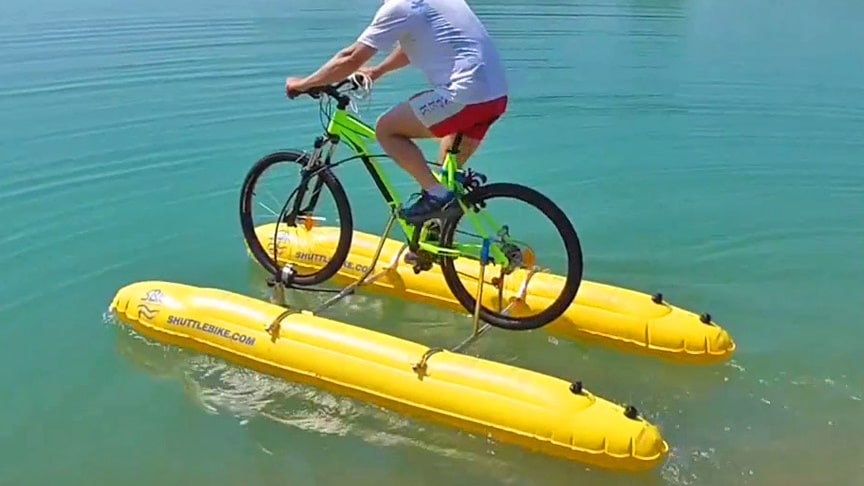 source.image: Shuttle Bike Kit
The uniqueness of the kit is also an opportunity to enhance your business offering recreational services near seas, lakes and rivers. Many resorts and seaside hotels all over the world have already chosen SHUTTLE BIKE KIT® to attract new customers , offering a trendy product highly appreciated by the public.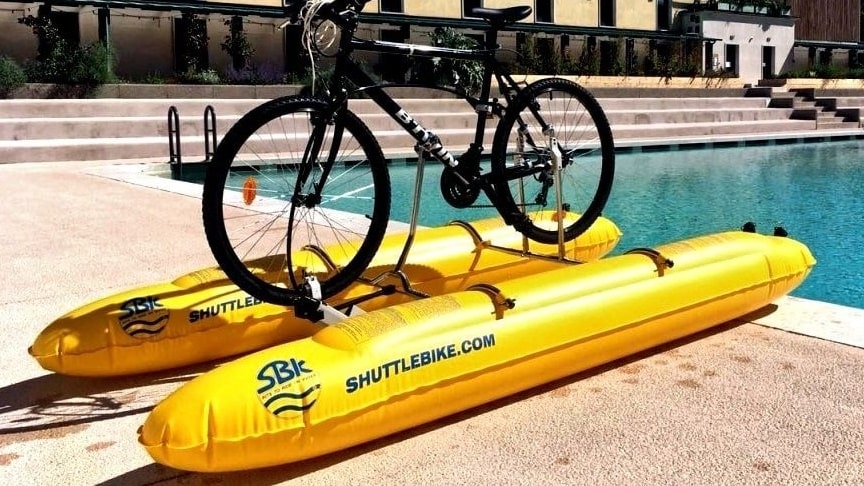 source.image: Shuttle Bike Kit
The pontoons are made of special calendered plastic fabric with an intermediate layer of nylon that gives high impact resistance and great rigidity to guarantee maximum set-up. The floats are not glued but are electro-welded with high-frequency technology to give high seal guarantee. The float also has a double security chamber.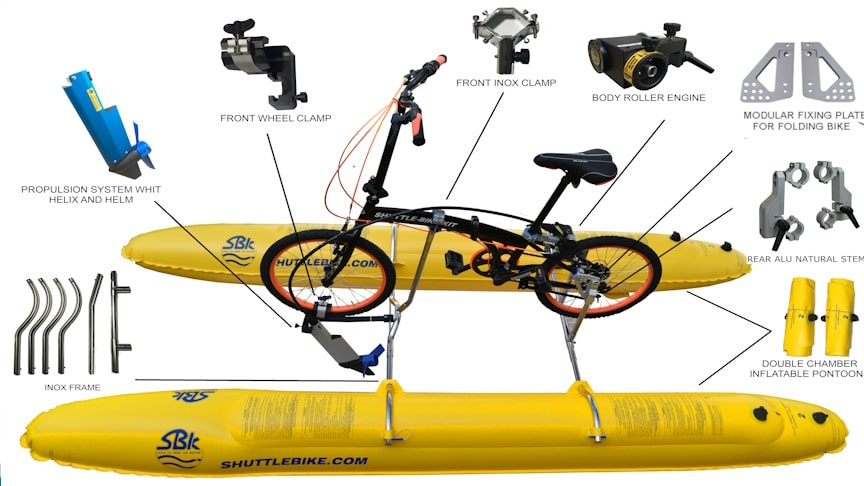 source.image: Shuttle Bike Kit
The valves are equipped with double cap and quick deflation.The structure of the Kit has been realized with interlocking pipes of easy assembly in AISI 316 steel that guarantees maximum stability and shock absorption in the event of impacts and anomalous waves.
Advertisement
The rudder is hooked to the base of the front wheel allowing great maneuverability and precision of movement. A special tilting joint allows the rudder to get up to ensure re-entry to the shore or overcoming obstacles in the water without damaging anything.
The gear system allows you to increase the pedaling speed.The installation process doesn't require any tools and it takes less then 10 minutes. It can hold 120kg of weight for a smooth ride. But it have a capability to hold up to 200kgs.