Lazzarini's design studio latest concept is a bizarre 82ft amphibious power-cat nicknamed the Crabmaran.The unceasing amazement of the natural world, and the aquatic ecosystem in particular is a living, breathing source of design inspiration.The Pagurus is another of the seventh nature inspired yachts that Lazzarini design studio is developing.Pagurus it's a solar-powered 25 meters (82ft) amphibious catamaran which it takes advantage from sun and water.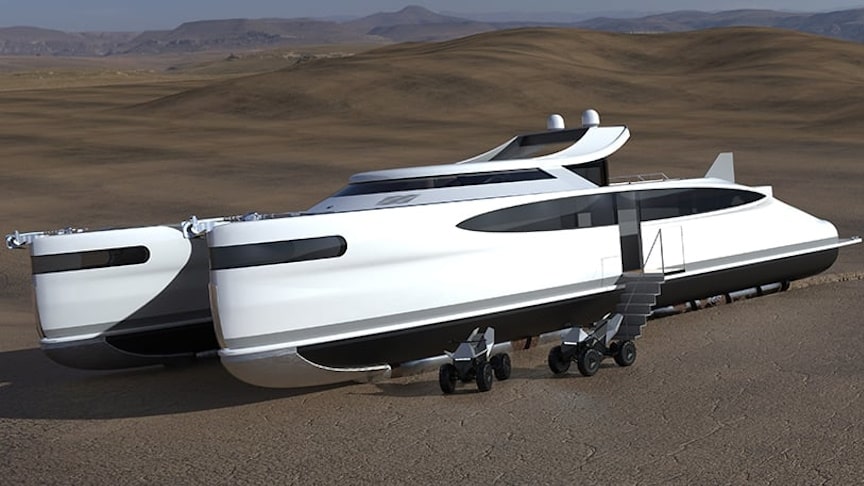 source.image: Lazzarini Design
The yacht subdivides the living spaces in two side hulls, connected to each other through a bridge tower deck station.To stiffen and reinforce the main body, a bridge steel structure connects each side to the other.When the Pagurus reach the land increase its draft by lowering down the rotating cylinders of about 60cm,transforming the Catamaran into an amphibious vehicle able to move on sand or mud terrains up to 30kmh.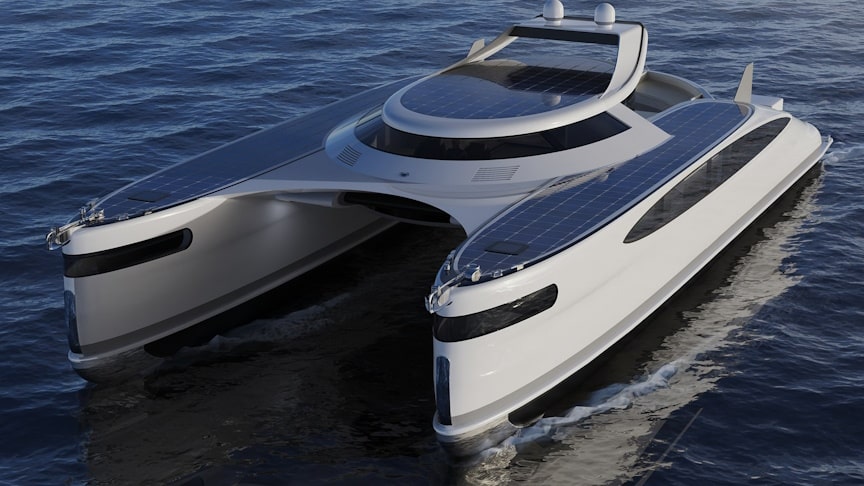 source.image: Lazzarini Design
The central area works as helm station with the possibility to load different situations in your living room.In fact the central part of the yacht incorporates a crane platform, which connected through 4 electric winches, can load and unload various stuff (including an off-road vehicle.
source.image: Lazzarini Design
The twin steel conceived hulls can be configured on each side with 2 up to 3 bedrooms, kitchen and toilette, and it can guest up to 8 passengers +4 crew members (total accommodation for the night for 12 PS)The normal sailing propulsion happens with dual propellers stern drive coupled with twin 890hp diesel engines capable to move the Pagurus to an estimated top speed of 24 knots
Advertisement
In the immersed part of the yacht, the hulls are designed with a recess space that guests on each side two steel cylinders, each one with a helical spiral flange like the thread of a screw.
Each screws measures 6.5 meters in the lenght, and it's 1.20 in its diameter.With the water friction the screw cylinders generates energy to recharge the yacht batteries while sailing.The cylinders are moved from an independent engine, each one connected to a transfluid transmission are able to generate motion in water (5 knots) and simultaneously energy.
Engines N: 6 Total power on board 3540hp
Engines water mode : 2X Caterpillar (890 each tot 1780 Hp)
Engines terrain mode : 4X Yanmar diesel (440hp each Tot 1760)
Hybrid propulsion : Transfluid transmission
L.O.A : 25 meters (82 ft)
Beam: 9,2 meters (30 ft)
Height: 5,2 Meters (16,5 ft)
Draft/immersion: from 1600 mm to 1800 mm (screws out)
Dry displacement : 52000 KG ( 114.688 lb)
Weight : 52,999KG
Cruising speed (Water) : 18 knots
Max speed (Water) : 25 knots
Cruising speed (Terrain) : 20 Km/h
Max speed (Terrain): 35 Km/h
Electric motion max speed (Water) : 6 knots
Electric motion max speed (Terrain) 15 Km/h