The Dembell Motorhome M is best described the dream motorhome, the motorhome is based on the chassis of a Mercedes Actros which is powered by a 12.8 liter V12 engine developing 530 hp. It's 12 meters long, 2.5 meters wide and 4 meters high.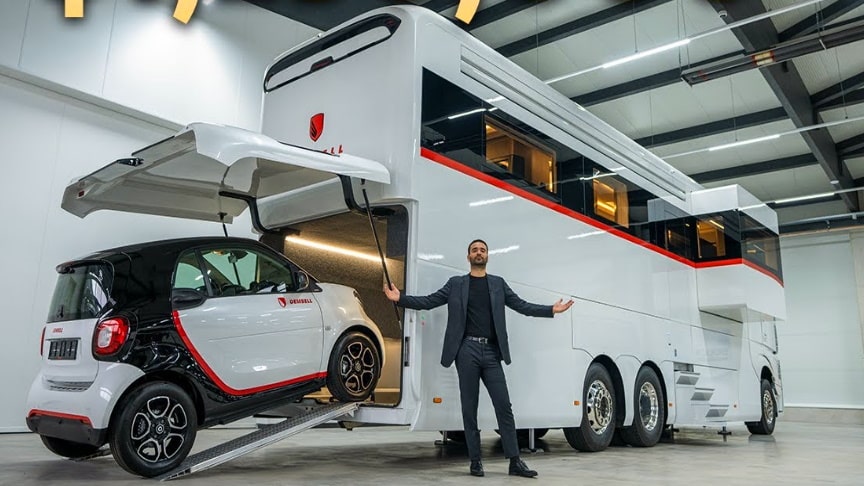 image: Enes Yilmazer
The floorplan is clean and clever for the maximum space. The open plan layout creates a spacious, adaptable living space for the highest possible convenience. Unique to the market, the floor plan is completely flat without any steps or elevated levels and with an internal height of 2.05 meters, just like a studio apartment. Watch the video from Enes Yilmazer where he takes a full tour of this amazing motorhome:
The conscious hidden lighting and sliding, mirror doors enhance the feeling of spaciousness.This week we are in Wilhelmsdorf, Germany, touring a 1 million Euro luxury motorhome with exquisite modern finishes!Generous dimensions thanks to the two Slide-Outs. With a unique innovation the floor level is the same in the entire vehicle with an internal height of 2.05 meters.
Advertisement
The high-end kitchen has custom solutions for maximum comfort such as the pop-up faucet of the sink.The elegance is ensured by the Miele appliances.Everything for convenience: a 1.8x2m double bed with storage underneath, large wardrobes, a 50-inch television and a central heating system with local thermostat supplemented with surface-heated windows.