SwinCAR is a single-seater all-terrain electric pendulum quadricycle.These extreme crossing capacities are superior to all other machines on the market. Each wheel has its own electric motor and independent suspensions at the end of each arm. They can thus tilt independently of each other while the driver remains upright.The SwinCAR with its spider look can roll on slopes with an inclination of 70%.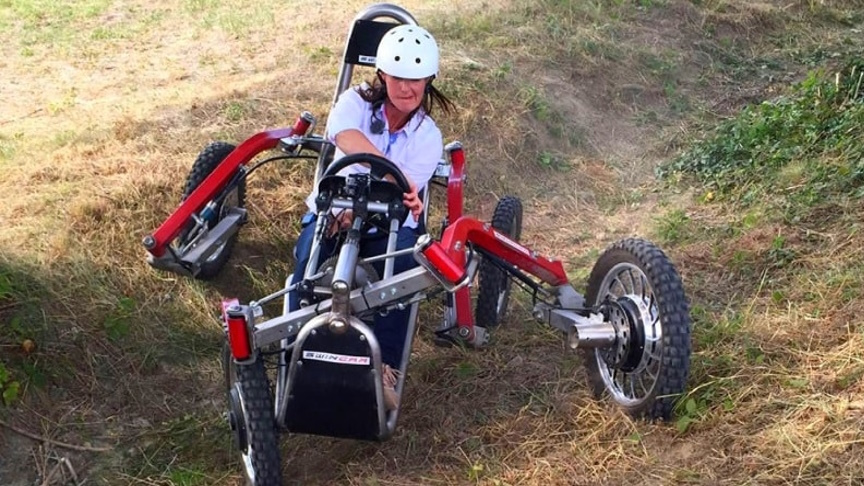 The SWINCAR e-Spider (single-seater) is the first model in the range. It is a particularly compact and capable option for solo adventures.The SWINCAR e-Spider tandem (two-seater) allows drivers and passengers to share the Swincar experience.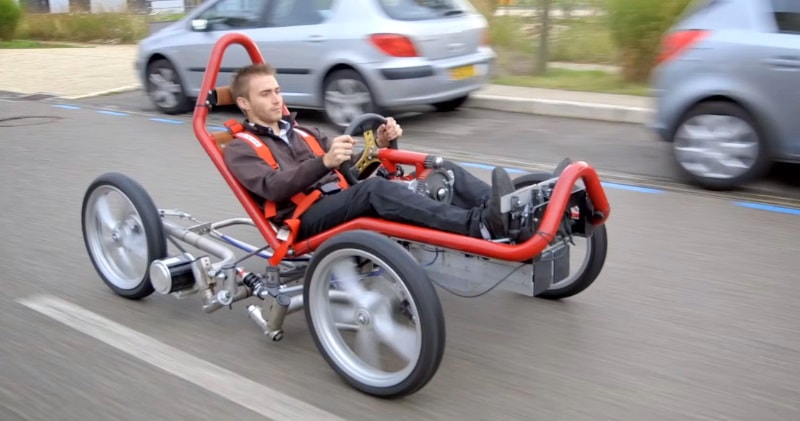 The SWINCAR e-Spider mobility, intended for PRM (persons with reduced mobility) can be a single-seater or a two-seater equipped to facilitate transfers from wheelchairs and offers adaptations of posture and driving ergonomics.All models are road approved in Europe as a light quadricycle (L6-e) and can be registered for driving on public roads.
Advertisement
It's battery-powered, with motors sending power independently to all four of its rugged wheels with just the slightest push of my thumb on the throttle.In addition to its four-wheel drive and independent steering, this compact electric off-roader has incredible amplitude of movement of the four articulated legs. This allows Swincar drivers to tackle slopes and difficult terrain without losing wheel-to-ground contact.
The wheels and streamlined casing on the outer side of the vehicle act like a pendulum which yields equilibrium to the vehicle thereby helping to achieve tilting in the corners and correction of tilt on slopes. To avoid too much freedom to the wheels, the ATV employs a push-pull mechanism in both the directions.via.read more: Swincar
Technical details:
4-wheel drive provided by 4 individual wheel motors
4 independent steering wheels
Rated power 4kW (peak> 12kW)
Maximum torque: 340Nm
4kWh batteries built into the chassis
Range up to 4hrs including 1000m of climbing
Battery re-charging during descent and deceleration
Steering wheel controls (throttle and brakes)
Reverse, lighting, parking brake, plate holder
Cargo rack and tank