The SeaSuite is a tiny aluminum houseboat with loads of windows, a large dinette with an electric table, an l-shaped galley, a comfy Queen-size bed, and a modern head (bathroom) with a porthole window in the shower. There's also loads of storage space built into every area in the boat.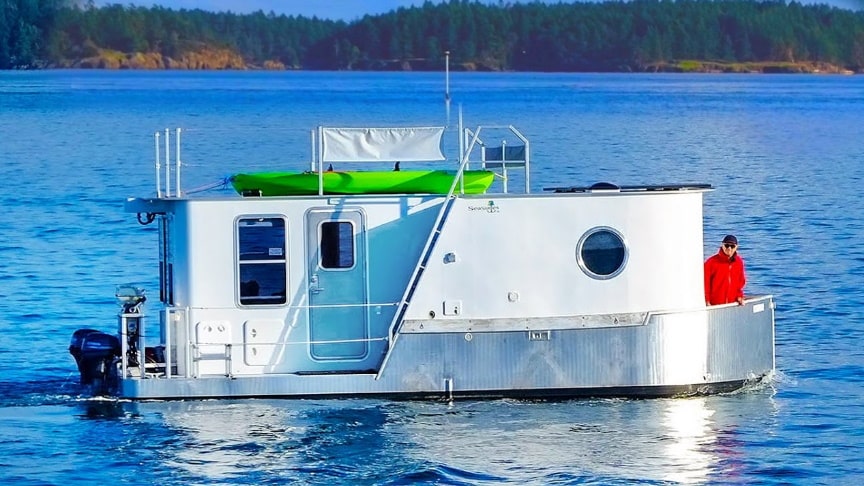 image: Exploring Alternatives
For exterior space, there is an adorable miniature front deck, an epic rooftop deck, and an outdoor navigation station. It's 26′ long x 11'6″ wide and weighs over 8,000 lbs.Mark Philbrook has always had a close association with the sea.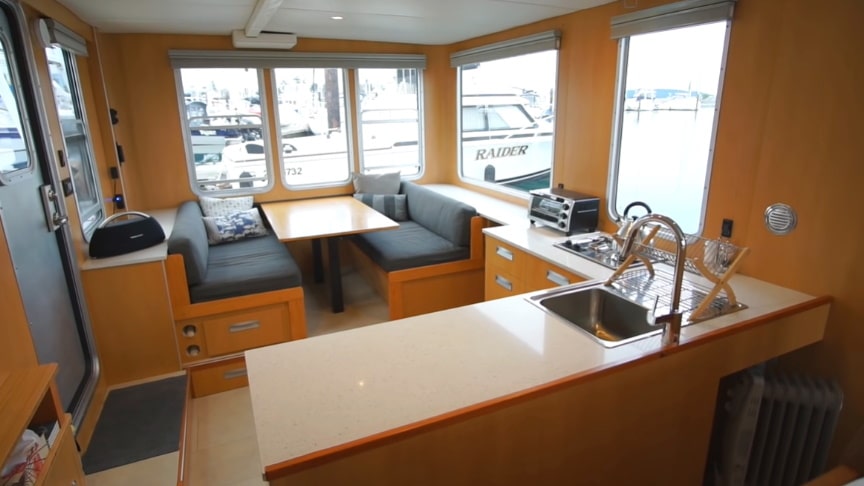 image: Exploring Alternatives
He comes from a family of boatbuilders (his father and grandfather started Philbrook Shipyards) and Mark was a liveaboard on an Erikson 39 sailboat for 16 years. He designed the SeaSuite and began construction in 2017. His wife Nadine helped with interior design, his friend Craig Toby helped with the build, and the aluminum welding was done by Mark Keeler.
Advertisement
It's a fully certified Transport Canada boat. The boat is insulated with 1″ foam board and has 2 sources of heat: a Propex propane heater, and a radiant electric oil heater.
It can be operated on the grid by plugging into 30-amp shore power and hooking up to municipal water, or it can be off-grid with freshwater storage bladders, a Separett urine diversion toilet, 520 watts of solar power, 4 x 6-volt deep cycle batteries, and a Propex propane heater.This is a unique and brilliantly designed tiny houseboat and we hope you enjoy touring it!