Lift Aircraft is the first company worldwide to offer eVTOL vertical flight as an experience. LIFT aircraft has created an aircraft dubbed hexa. With an airframe built entirely of carbon fiber, Hexa weights in only 432lbs. and is compliant with the FAA's Powered Ultralight classification so no pilot's license is required to fly.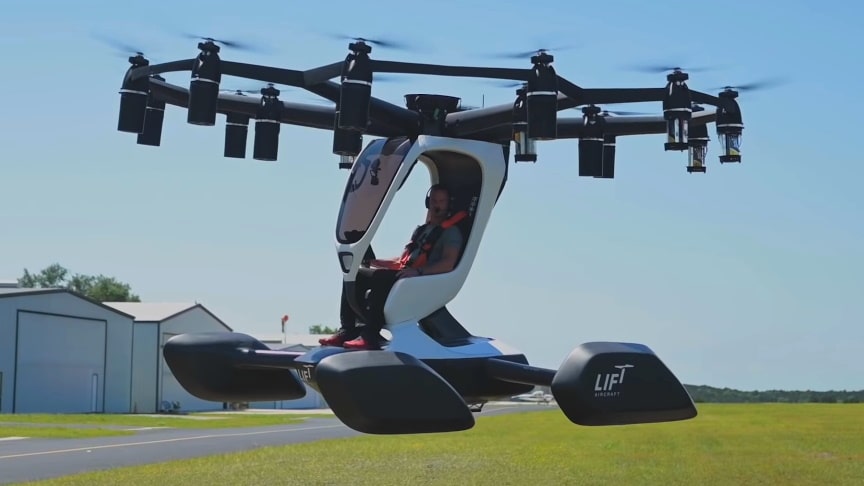 image: LIFT Aircraft
Don't worry, we'll give you plenty of training.Capable of landing on both land and water, HEXA has four perimeter floats for buoyancy and stability and a fifth, center float filled with energy-absorbing foam for added buoyancy and hard landing protection.
A triply redundant autopilot computer with a single, 3-axis joystick is all that is needed to fly. Or tap on the seven inch touchscreen in "Look mom, no hands!" mode.Hexa will be rented out for eight- to 15-minute flights in scenic and uncongested areas near major metro areas, tourist destinations and entertainment hubs.
Advertisement
Hexa has 18 rotors, each powered by a single battery. All this gives stability in flight, but also provides extreme safety in case of need. Hexa can in fact fly with only 6 active rotors.
At LIFT Aircraft, safety is our top priority. Among the many safety features of our aircraft, each of the 18 rotors operates independently. HEXA can lose up to 6 rotors and still maintain flight. We tested that safety feature in this recent flight test – what we believe to be the world's first manned motor out flight test in an eVTOL (electric vertical takeoff and landing) aircraft. Don't try this with your helicopter!