Developed at the Yamaha Motor Innovation Center, the focus point for cutting-edge design initiatives that drive product design development and new innovation at Yamaha, MOTOROiD, under the concept of an "Unleashed Prototype", is a proof-of-concept experimental electric motorcycle.The MOTOROiD, an A.I.-powered motorcycle that will not only drive on its own, but will interact with the rider.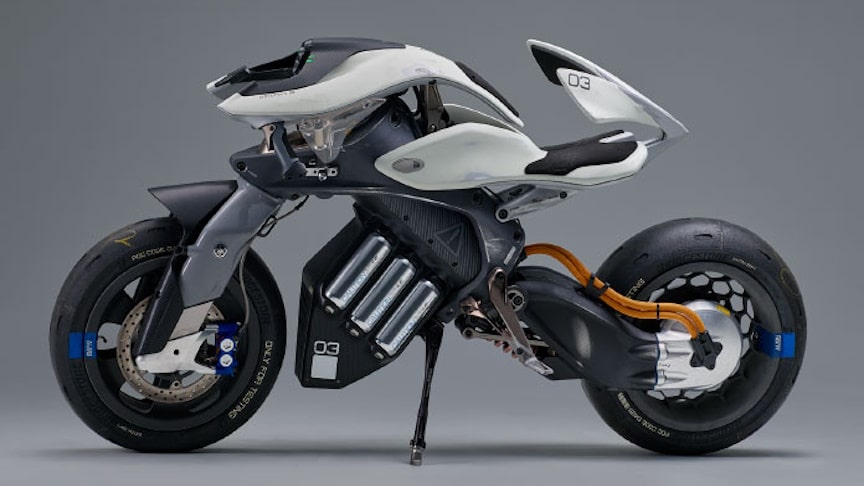 source-image: yamaha
The bike relies on pre-programmed routes to navigate itself. As much as it has a soul, it does not have a mind on its own to travel wherever it wants to go. Besides balancing on its own, the Motoroid has the ability to recognize riders and be summoned with a wave.The machine's attitude control is handled by rotating parts of the machine like the battery, swingarm and rear wheel around the AMCES axis that runs through the center of the vehicle (see figure) in order to control its center of gravity.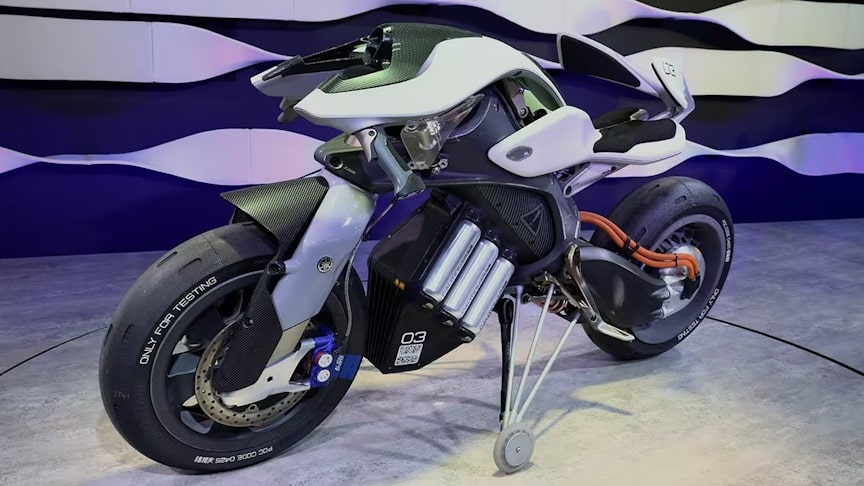 source-image: yamaha
During rotation, the battery moves either right or left, acting as a counterweight that enables the machine to maintain balance and remain upright at a standstill. The inner frame unit area rotates around the AMCES axis via electronic control.The IMU senses the machine's lean angle, and consists of a gyro sensor that detects axis rotation and a G-sensor (accelerometer) that detects velocity in each direction. The IMU sends data to the control unit at a rate faster than once every 0.0005 seconds.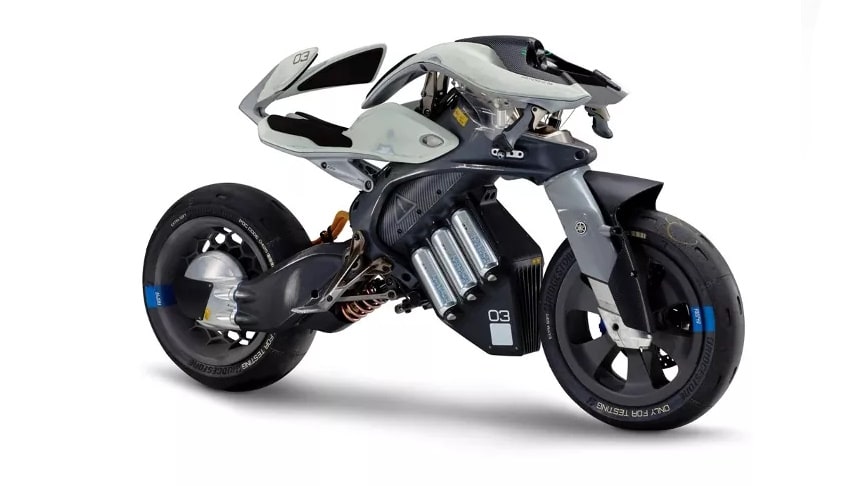 source-image: yamaha
MOTOROiD also features haptic (more commonly known as "force feedback") devices. The haptic human-machine interface (HMI) works to provide a greater sense of unity between rider and machine as it contacts the rider's waist and chest area, as if the owner is being embraced by the vehicle. These contact points are aimed at a more intuitive form of feedback and interaction between the rider and machine.
Advertisement
The MOTOROiD concept model aims to demonstrate personal mobility in which the rider resonates harmoniously with the machine. Equipped with high-precision balance control via artificial intelligence and autonomous technology, the MOTOROiD can sense its own state and adjust its center of gravity accordingly to stand up off its kickstand and remain upright unassisted. It can also recognize its owner and move forward to meet him/her, as well as react based on its rider's actions thanks to its human-machine interface (HMI).
The exterior is deliberately far from flashy. The frame retains clear traces of the cuts made to create it, the body is marked with unvarnished scars here and there, and the tires are worn to the point that even the tread grooves are nearly gone. The designers and engineers wanted to show the public what their repeated creative clashes gave birth to in unaltered form. The MOTOROiD was created from scratch in order to embody the possibilities of technology and function.